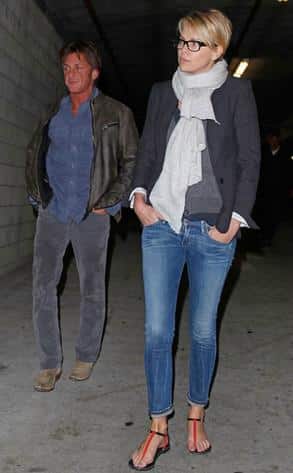 ¿Romance entre Charlize Theron y Sean Penn?
A los actores sí que se les ve mucho juntos últimamente.
Los actores acudieron a los cines ArcLight en Hollywood, el sábado pasado, para ver The Wolf of Wall Street. Un testigo reveló a E! News en exclusiva que ambos se veían "como una pareja normal" y que "parecían muy informales y cómodos" al salir del cine.
Los representantes de Charlize y de Sean se han negado a emitir comentario sobre el status de la relación entre ambos, reporta E!
Luego, fueron vistos "conversando" y "sonriendo el uno al otro" mientras se subieron a su vehículo. De allí, se dirigieron a la casa de Charlize en Hollywood Hills, donde pasaron la noche juntos.
Charlize y Sean recientemente también compartieron  un paseo en Hawái.
Luego, volaron de regreso a California para pasar Año Nuevo juntos e intentaron permanecer de incógnitos en el aeropuerto de Los Ángeles.
Son muy amigos o realmente hay un nuevo romance en Hollywood.
"Pasan cada noche juntos y la relación va muy rápido. Parece que la cosa va en serio y no se cansan el uno del otro", comentó en exclusiva otra fuente.
La Columnaria Blog