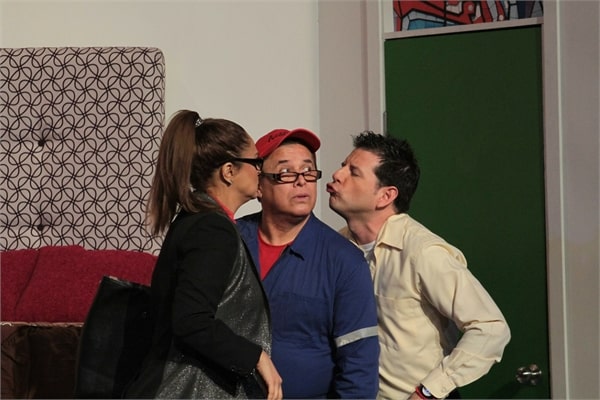 La puesta en escena  "Sex and the Crisis" se reestreno ayer miércoles en el Teatro Versalles  y a pesar del mal tiempo el teatro lució abarrotado por el público que disfrutó por mas de dos horas la comedia protagonizada por  Brenda Bezares, Hugo Santos y Mario Bezares.
"Sex And The Crisis" es la  historia de un matrimonio que pasa por un difícil situación económica., los dos son altos ejecutivos, que estudiaron en la mejor universidad, pero por la crisis se quedan desempleados. Las situaciones que atraviesan los personajes son garantía de risas.
Los amigos que acompañaron a los actores en este reestreno fueron el motivador César Lozano que recomendó amplia mente la obra ;Paola Durante que compartió que no conocía esta faceta de su amigo Mario Bezares y dijo estuvo muy feliz de poder acompañarlo; además de los conductores locales Sadrach Santos , Gerónimo García , Fernando Lozano entre otros.
Sex and The Crisis fue escrita por Rodolfo Rodríguez, es dirigida por Enrique Páez y la producción es de Mario Bezares. Tendrá temporada en el Teatro Versalles de lunes a jueves a las 20:30 horas.
La Columnaria Blog
Texto: Cynthia Carreón