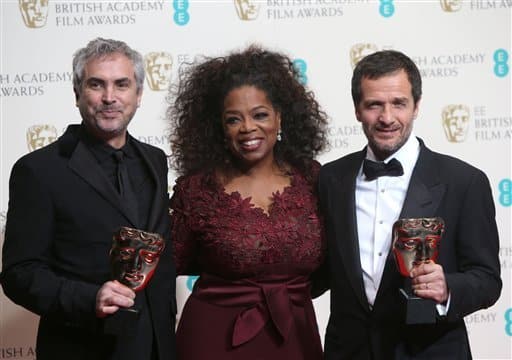 La fuerza de la gravedad fue premiada!
"Gravity" , del director mexicano Alfonso Cuarón, obtuvo seis premios BAFTA a mejor director, mejor película británica,  mejor sonido, mejor música original, mejores  efectos visuales especiales y mejor fotografía  en la 67 edición de los premios del cine británico con sede en Londres.
La cinta competía  como mejor película con "Mandela: Long Walk to Freedom" , "Philomena" , "Rush" , "Saving Mr. Banks" y "The Selfish Giant" .
El premio a una película producida en el Reino Unido, es el primer Bafta que se entrega en la gala que se celebra en la Royal Opera House de Londres.
En la categoría de mejor sonido, "Gravity" venció a "Inside Lewyn Davis" , "All is lost" , "Captain Phillips" y "Rush" , informan agencias.
E premio a la mejor música original competían también "12 Years a Slave" , "The Book Thief" , "Captain Phillips" y "Saving Mr. Banks".
Los Bafta son los últimos grandes premios de cine antes de los Óscar de Hollywood, que se entregarán el próximo 2 de marzo en Los Ángeles, informan Vanguardia y El Universal.
Aquí la lista completa de ganadores:
Mejor Película: 12 Years A Slave
Mejor Director: Alfonso Cuarón (Gravity)
Mejor Actor: Chiwetel Ejiofor (12 Years a Slave)
Mejor Actriz: Cate Blanchett (Blue Jasmine)
Mejor Actor Secundario: Barkhad Abdi (Captain Phillips)
Mejor Actriz Secundaria: Jennifer Lawrence (American Hustle)
Mejor Película Británica: Gravity
Mejor Película en Lengua No Inglesa: La grande bellezza
Mejor Documental: The Act Of Killing
Mejor Filme de Animación: Frozen
Mejor Guión Original: American Hustle
Mejor guión adaptado: Philomena
Destacado debut de un escritor británico, director o productor: Kieran Evans (Kelly + Victor)
Mejor Música: Gravity
Mejor Fotografía: Gravity
Mejor Montaje: Rush
Mejor Diseño de producción: The Great Gatsby
Mejor Vestuario: The Great Gatsby
Mejor Sonido: Gravity
Mejores Efectos Especiales: Gravity
Mejor Maquillaje: American Hustle
Mejor Cortometraje Animado: Sleeping with the Fishes
Mejor Cortometraje: Room 8
Mejor Intérprete Revelación: Will Poulter
Bafta Honorífico por su Trayectoria: Helen Mirren
Bafta Honorífico por su Contribución al Cine Británico: Peter Greenaway.
La Columnaria Blog